ABOUT STEVIA
Stevia (Stevia rebaudiana) is a natural and non-nutritive sweetener derived from the leaves of an herbal shrub native to South America. The stevia plant has been used for food and medicinal purposes for hundreds of years. Stevia Leaf Extract are 200-350 times sweeter than sugar and contribute sweetness to foods and beverages without adding calories.
An all natural sugar substitute, stevia is the smart choice zero cal sweetener for those on a keto diet, low carb diet or diabetic diet.
Sweeteners & sugar alternatives don't get much sweeter than this. Studies have shown sweet leaf stevia is 10X sweeter than sugar!
WHY USE RITE STEVIA
Rite Stevia offers a range of stevia based sweeteners that are sweeter than sugar, yet without calories or carbs and diabetic friendly. The no calorie sweetener nutritionists are obsessed with, stevia is the healthier choice for indulging one's sweet tooth.
Rite Stevia Sweeteners are prepared from Stevia extract and do not contain any Carb or Calories and accordingly have a Glycemic Index (GI) of Zero, hence do not cause spike in blood sugar levels. Rite Stevia sweeteners can be used in beverages and foods like tea, coffee, juices, dairy products, syrups and condiments. Since these are heat-stable, pH-stable and not fermentable, Rite Stevia range of sweeteners can be used in baked goods.
Available in powder form in Jars and Packets / sachets, in tablet form in flip-top boxes of 100s and liquid dropper bottles, Rite Stevia is the perfect companion for the health conscious !
Rite Stevia product highlights:
✔Proven to be 10-12X Sweeter than Sugar
✔ Keto Friendly, Diabetic Friendly No Sugar Sweetener
✔ Doesn't Spike Insulin, Blood Sugar or Glucose Levels
✔ Sweet Flavor. NO Bitterness. NO Lingering Aftertaste.
✔ Gluten Free, Dairy Free, Non GMO, Side Effect Free
✔ Manufactured in an ISO 22000 Certified facility, highest standard in Food Safety Management
YOU CAN ALSO BUY OUR PRODUCTS AT AMAZON
FEATURES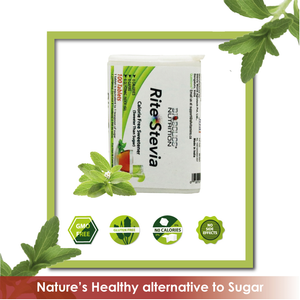 Rite Stevia Tablets
Natural Zero Calorie No Carb Sugar Substitute Diabetic Friendly, LACTOSE FREE, Keto Sweetener Tabs in Portable Flip Top Container
Rite Stevia Sachets
Raw Green Leaf Naturally Sweet Pure White 0 Carb Zero Calorie Sweetener Powdered Sugar Substitute for Diabetics, Keto Baking, Mixing Drinks & Smoothies